Copper slipped below $7,500 a tonne as fears of a global economic slowdown added pressure on industrial metals and accelerated their decline from record highs set just a few months ago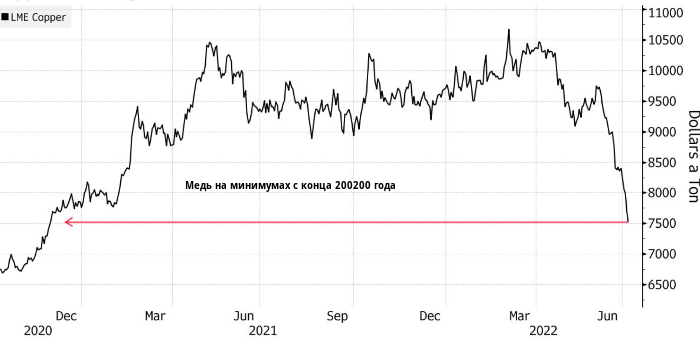 ---
Investors are worried about a range of threats to demand, from a gas crisis in Europe to an economic slowdown in the US and new virus outbreaks in China. Copper shed nearly 5% on Wednesday after falling 4.2% on Tuesday to its lowest close in 19 months. Aluminium, zinc and tin also declined.
Another mass testing for the virus in Shanghai is fueling fears that Beijing's Covid-zero policy will hinder the recovery of the world's second-largest economy. China was seen as one of the most attractive sources of demand given the government's pledges to boost economic growth this half of the year.
---
"Right now, there really is no upbeat news," said an analyst at Guoyuan Futures Co. Fang Rui. Europe and the US are facing recession risks and barely containing inflation, which will lead to monetary tightening, which will negatively affect copper, given that the Chinese economy has been hit twice by a new outbreak of the virus and a weaker-than-expected recovery in demand ".
---
The latest quarter was the worst quarter for metals since the 2008 financial crisis and July is unlikely to turn things around as recession fears dominate markets. The tide has turned quickly since March, when the LMEX six-metal index soared to a record high amid concerns that a military conflict in Ukraine would spark a deficit.
The minutes of the latest Federal Reserve meeting will be released on Wednesday and will help to understand what the bank thinks about tightening monetary policy in anticipation of the next rate decision in late July. According to the latest forecasts by Bloomberg Economics, there is a 38% chance of an economic downturn in the US.
Copper fell 4.9% on the London Metal Exchange to $7291.50/t, the lowest since November 2020, before trading at $7440/t at 7:10 am local time. Aluminum fell by 1.4%, and zinc – by 0.6%
The sell-off in metals also hit mining companies: Rio Tinto Ltd. lost 7.2% in Australia, while BHP Group lost 5.5%.